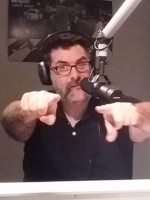 Tom Brennan
General Manager
Music host (Sun. 7p-10p), host of Brookdale Beat podcast, Advisor to Brookdale Student Radio & Station Manager. During some weeks he gets relief during the first hour of his shift for a Guest DJ. He's been in radio since 1993 and is a proud husband and father of 3.
Since 1997 he's worked at Brookdale Community College in a number or roles at the Radio Station. Since it's inception, Tom has been the advisor of Brookdale Student Radio & Podcasting Club, the student-run radio station at the College.
This helps his passion of showing the broadcasters of the future how radio works through Brookdale's academic and student life programs.
While on the air, Tom likes to sneak in some of his favorite artists. So, when you hear some Radiohead, Spoon, or Lenny Kravitz. You may also hear him talking about some of his favorite movies and their music on the air. Be prepared for "The Big Lebowski", Martin Scorsese and Wes Anderson film references.
He often appears on the station's Instagram account talking about today in music history and spins songs related to a special anniversary like an album's release or musician's birthday.
New dredging projects will start along the Navesink and Shrewsbury Rivers.

October's incidents were over 50% over the last average of the last nine months.

Anyone trying to get through Red Bank yesterday morning may have run into some detours.

Tom Crooks is one of 456 individuals who took on the "Squid Game Challenge"

The Monmouth County Board of County Commissioners want residents to support local businesses this weekend.

Supermarket Chain Aldi is cutting prices on some items in half ahead of the Thanksgiving Holiday.

It will cost you less to drive around this holiday weekend in NJ.

The NJ ABC approved the delivery service last week to deliver with some restrictions.

Profits are up 9.3% overall from last October

The smell of coffee will no longer linger over Freehold.