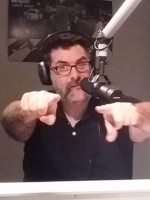 Tom Brennan
General Manager
Music host (Sun. 7p-10p), host of Brookdale Beat podcast, Advisor to Brookdale Student Radio & Station Manager. During some weeks he gets some relief during the first our of his shift for a Guest DJ. He's been in radio for since 1993 and is a proud husband and father of 3.
Since 1997 he's worked at Brookdale Community College in a number or roles at the Radio Station. Since it's inception, Tom has been the advisor of Brookdale Student Radio & Podcasting Club, the student-run radio station at the College.
This helps his passion of showing the broadcasters of the future how radio works through Brookdale's academic and student life programs.
While on the air, Tom likes to sneak in some of his favorite artists. So, when you hear some Radiohead, Spoon, or Lenny Kravitz you'll know why. Same goes for any ska tune you'll hear him play.
He often talks about some of his favorite movies and their music on the air. Be prepared for "The Big Lebowski", Martin Scorsese and Wes Anderson film references.
He often appears on the station's Instagram account talking about today in music history and spins songs related to a special anniversary like an album's release or musician's birthday.
Ben Folds has a sound all his own. And he's been playing it since the mid-90s with his first band, the Ben Folds Five. And his new track "Exhausting Lover" is your Song of the Week

Minors in New Jersey will be able to get their working papers online.

In his most recent single "Death Wish" Jason Isbell sings about being in love with someone suffering from depression the fragility of like and the power and limits of love.

Spacey Jane is a relatively new band...forming in Australia in 2016. While making their last album in the throws of the COVID-19 pandemic they wrote a song that talks about accepting all parts of yourself and working on the person you want to become.

Another iconic building on the Asbury Park Boardwalk is closed until further notice.

Police departments all over New Jersey are warning students to stop playing certain school senior games

Jacob Slater, of Wunderhorse, went head-first into the London punk scene at the age of 17. That, burned him out, his band broke up and he decided to take a slower pace to life. Now he's back with a new album and new single. "Purple"...is your Song of the Week.

A Monmouth County man has been been arrested and charged in conncetion shooting of a Keyport man.

Growing up singing in gospel and madrigal choirs then picking up the guitar at 8, Weyes Blood has grown to mix all sorts of genres in her music including "Children of Empire", your Song of the Week.

As we look back to 1983 it's fair to see there was a lot to be had. The year brought innovation & experimentation from existing acts like David Bowie as well as up & coming acts like Eurythmics. The force that was MTV also helped usher new styles as well.